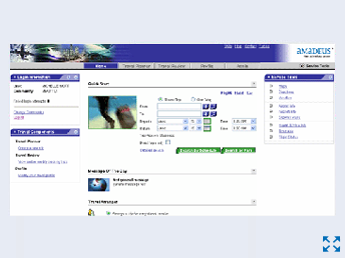 Before: Previously, the search and selection process for flights, hotels, and cars required multiple screens.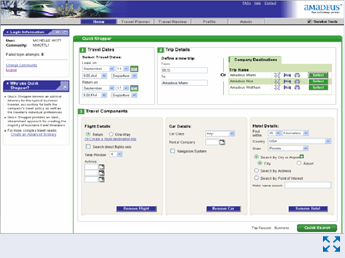 After: With Quick Shopper, the Amadeus site now returns optimized flight, car and hotel options from a single, user-directed search.
Outcomes & Benefits: for travelers and companies
Ultimately, user confidence in the system is the key factor that leads to adoption. Amadeus Quick Shopper now engenders user confidence by providing:
an environment that is predictable and comfortable
clear decision points throughout the booking process
a transparent, optimized balance between business rules and personal preferences
For example, missing profile data is subtly captured as part of the booking task flow, users will be allowed to save their settingsas a template after booking, and preference collection will be integrated into a post-travel follow-up feature. Furthermore, the new Amadeus Quick Shopper leverages current technologies like AJAX to aid users in the booking process with suggestion tools and more.
This intelligent design makes Quick Shopper more than just an aggregation of travel components and simplifies the steps necessary to book a trip. These improve adoption and benefit all parties:
Users enjoy an efficient booking process that generates an itinerary which meets their needs
Companies save money on travel through increased user adoption of the online tool (which costs far less than transactions involving a travel agency representative), while ensuring that travel reservations conform to corporate policies
Amadeus solutions continue to evolve to meet the needs of current and future customers, driving incremental implementations and product enhancements that reduce customers' travel costs
HFI's collaboration with Amadeus has resulted in a user-centered, intuitive Quick Shopper feature that deftly meets the needs of both travelers and corporations.