Government
We make government systems usable
Government services are migrating to the web and other computer environments. This is making it critical to understand and implement the principles of user-centered design.
Ten habits for successful government systems management
1. Repurpose – use interface standards
Avoid reinventing the wheel. Create a library of design patterns that you can adapt to each project.
2. Train GUI designers/developers
24% had no easy way for customers to move between major sections.
3. Train web designers
Learn to analyze objectives, user population, and task flow to determine the most effective Web structure.
4. Keep screen navigation a no-brainer
Use navigation models that efficiently match the user task flow.
5. Test your designs
Don't wait until it's too late to change. Test right from the beginning with the people who will use the applications.
6. Make intranets easy to use
Interfaces must be intuitive. Apply ergonomic principles in the development phase to ensure end-user efficiency.
7. Make forms ergonomically efficient
The transition from paper to electronic media demands knowledge of proven usability principles.
8. Design for the masses
Not everyone has a Ph.D. in searching government sites. Design for the proper user profile.
9. Design to handle change
Design your navigation structure with the flexibility to handle growing information services.
10. Plan for usability
Use proven methods to create standards, implement designs and test effectiveness.
Contract vehicles:
Human Factors International's GSA contract offers government agencies a simple vehicle for using our training and consulting services in user interface design.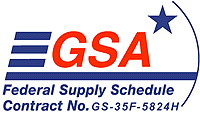 Schedule 70 (IT Schedule)
Special item numbers:
132-33 Perpetual Software License
132-50 Training
132-51 Information Technology Professional Services
FSC Class: 7030, Information Technology Software
Some of our clients:
Government Agency
Service Provided

Internal Revenue Service (IRS)

Created national GUI standards
Created high-level structure for tax system modernization desktop
Onsite GUI design training

Social Security Administration

Developed GUI standards
Supported design of reengineered disability system
Onsite Web design & GUI design training

Bureau of Census

Expert review of economic and agricultural census software
Onsite GUI design training

Department of Energy
Energy Information Administration (DOE EIA)

Expert review of Web site

Federal Statistics

Usability testing conducted by HFI using the usability labs at the Bureau of Labor Statistics in Washington DC

IRS Office of Chief Counsel

Developed GUI standards
Created high-level structure for Counsel Automated Systems Environment (CASE-MIS)
Detailed design for disclosure litigation

U.S. Geological Society

Expert review of Web site
Usability testing workshop

National Cancer Institute

High-level architecture of Cancer Net
Usability testing workshop

National Institute of Neurological
Disorders and Stroke (NINDS)

Redesigned and implemented this Web site (launched June 2000)
Branding analysis/recommendation
High-level architecture
Web standard
Web design course
Accessibility standard
HTML prototype for usability testing
Content management high-level architecture, half-standard, job-aid

Library of Congress

Onsite Web design training

Environmental Protection Agency

Onsite Web design training
Expert review of Web site

New York State Department of Social Services

Onsite GUI design training

New York State Office of Court Administration

Onsite GUI design & user-centered analysis training

South Dakota State Bureau of Personnel

Onsite Web design training

Louisiana State Office of Information

Onsite Web design training
HFI's user experience consulting services
Consulting overview sheet
Download
(77K pdf file)
Get your project plan
Ask our UX expert