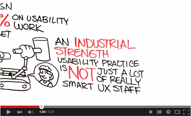 Video: Building Industrial Strength UX
"A recipe for a mature usability practice starts with an executive champion, because the champion holds the vision, the strategy, organizes the resources, and eliminates the obstacles. The executives owns the road map for the institutionalization of usability. . . The challenge is in governance, in making sure that middle management is aligned."
---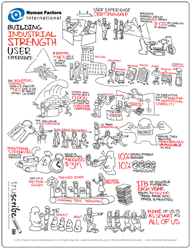 Poster: Building Industrial Strength UX
The visuals from our video Building Industrial Strength UX have been captured in a small poster. Formatted for printing, this engaging visual will help you share the concepts presented in the video with your colleagues. The poster is in PDF and will fit in US Letter size paper (8.5" x 11").
---
White Paper: Impediments to a Mature UX Practice
This white paper discusses some of the roadblocks organizations face when trying to build a mature user experience (UX) practice. Dr. Eric Schaffer outlines his vision for the future of the UX field in terms of the move to industrial strength usability. He addresses: What is a mature UX practice? How do you avoid common roadblocks? What are the steps you need to take?
About the Author and Narrator
Eric Schaffer is the founder and CEO of Human Factors International. His book, Institutionalization of UX: A Step-by-Step Guide to a User Experience Practice, provides a roadmap for companies to make usability a systematic, routine practice throughout their organizations. Dr. Schaffer also co-developed The HFI Framework™, an ISO-certifiable process for user-centered design, built on principles from human-computer interaction, ergonomics, psychology, computer science, and marketing. Dr. Schaffer has completed projects for more than 100 Fortune 500 clients, providing user experience design consulting and training. He is a member of the Human Factors and Ergonomics Society and a Certified Professional Ergonomist.